10 essential features every e-commerce website needs
March 15, 2023
In today's digital age, more and more businesses are moving towards e-commerce to reach a wider audience and increase sales. However, building an e-commerce website is not as simple as just putting up a few product listings. A successful e-commerce website needs to have certain essential features to make the shopping experience smooth and enjoyable for customers. In this article, we'll go over the 10 essential features every e-commerce website needs.
The top 10 features you need to create an effective e-commerce website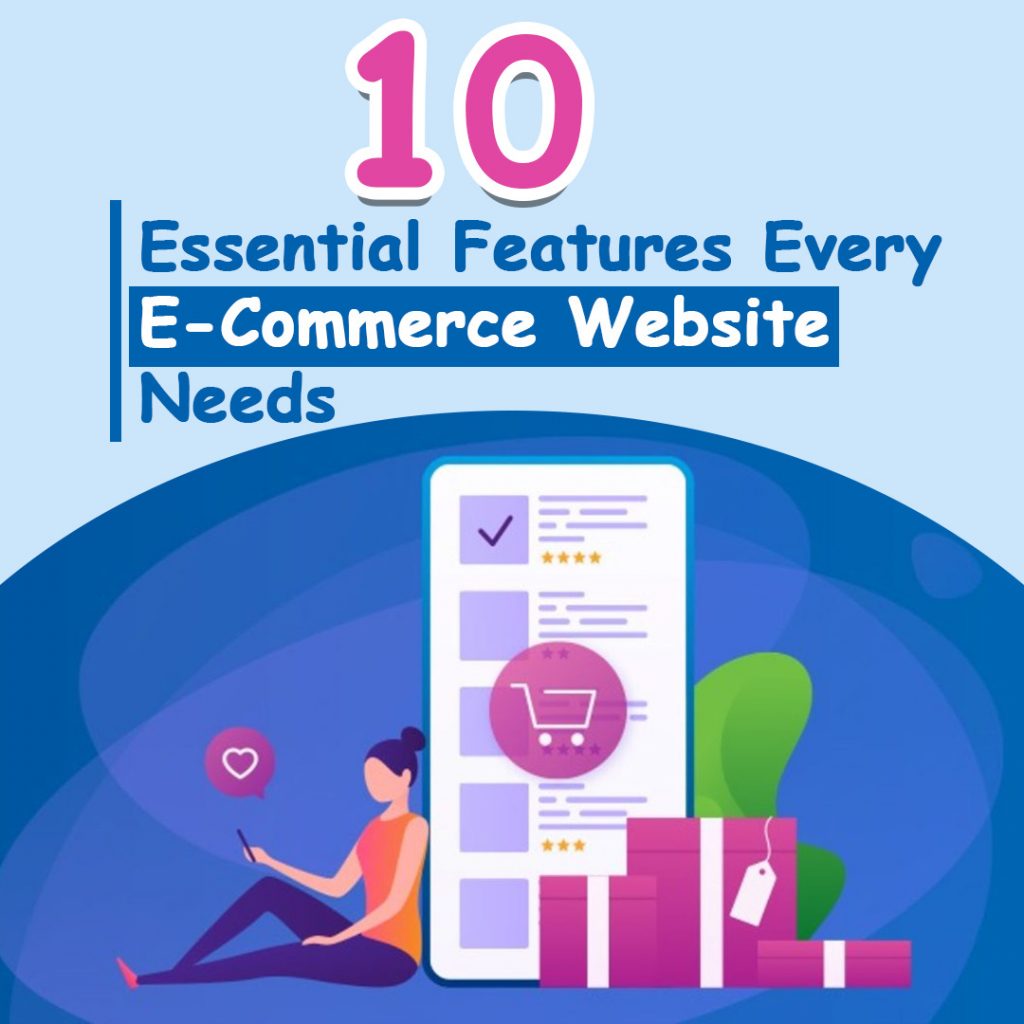 A User-friendly e-commerce website : 
The design of your e-commerce website should be visually appealing and easy to navigate. Customers should be able to find what they are looking for without any confusion. A user-friendly design includes clear product categories, a prominent search bar, and easy-to-find links to product pages.
Clear product listings: 
Your product listings should be clear and concise, with all relevant information easily accessible. Each product should have a detailed description, high-quality images, pricing information, and any other relevant information such as size or color options. This information should be presented in an organized and easy-to-read format.
Search functionality: 
The search function is an essential feature for an e-commerce website. Customers should be able to search for products by name, category, price, or any other relevant criteria. The search results should be relevant and easy to navigate.
Easy checkout process:
The checkout process should be simple and straightforward. Customers should be able to add products to their cart, review their orders, and complete the checkout process with minimal clicks. This includes features like the ability to edit cart items, select shipping options, enter payment information, and review the order before submitting.
Multiple payment options: 
Your e-commerce website should offer multiple payment options to customers, including credit/debit cards, PayPal, and other popular payment methods. Customers should feel confident in the security of your payment gateway, and the process should be seamless and easy to use.
e-commerce website with responsiveness : 
With more people shopping on their mobile devices, it's crucial that your e-commerce website is optimized for mobile devices. This means that the site should be responsive and automatically adjust to fit the screen size of the device being used.
Customer reviews: 
Customer reviews and ratings are important features for any e-commerce website. They provide social proof and can help potential customers make informed purchasing decisions. Displaying reviews and ratings prominently can increase trust in your brand and products.
Customer service: 
Your e-commerce website should have a clear and easy-to-find customer service section, with options for email, phone, and live chat support. Customers should be able to easily find answers to their questions and receive timely support when needed.
Security: 
Security is a top concern for e-commerce websites, and your site should have robust security features, including SSL encryption and secure payment processing. Customers should feel confident in the security of their personal and financial information when making a purchase on your website.
Analytics:
Analytics tools can help you track and analyze customer behavior, sales data, and other important metrics to help you optimize your e-commerce website and increase sales. This data can be used to improve the customer experience, make data-driven decisions, and identify areas for improvement.
Conclusion
In conclusion, an e-commerce website should have a user-friendly design, clear product listings, search functionality, an easy checkout process, multiple payment options, mobile responsiveness, customer reviews, customer service, security features, and analytics tools. Implementing these essential features can improve the customer experience and increase sales.
How can we help you?
Now that you know the essential features of an e-commerce website, you might be wondering how to get started. That's where Dzinepixel comes in. Dzinepixel is a web design and development agency that specializes in creating custom e-commerce websites. We can help you build a website that's tailored to your business needs and incorporates all the essential features listed above. 
Our team of expert designers and developers will work with you every step of the way to ensure your website is user-friendly, secure, and optimized for sales. Contact us today to learn more about our e-commerce web design services.