5 Ways How e-commerce is Transforming Travel and Tourism
April 13, 2023
Have you ever thought that sitting at home, you can make complete preparations for your vacation with just your phone? From train and flight tickets to hotel rooms, everything in just a few clicks. All this is possible due to e-business which we also call e-commerce. The face of the hospitality industry has changed since the advent of e-commerce in tourism. 
In this blog, we will see how e-business is transforming hectic travel and tourism into a smooth journey. We will discover how e-commerce is streamlining your vacations in different ways. So why late, let's dive into the adventurous journey.
5 ways e-business is Boosting Travel and Tourism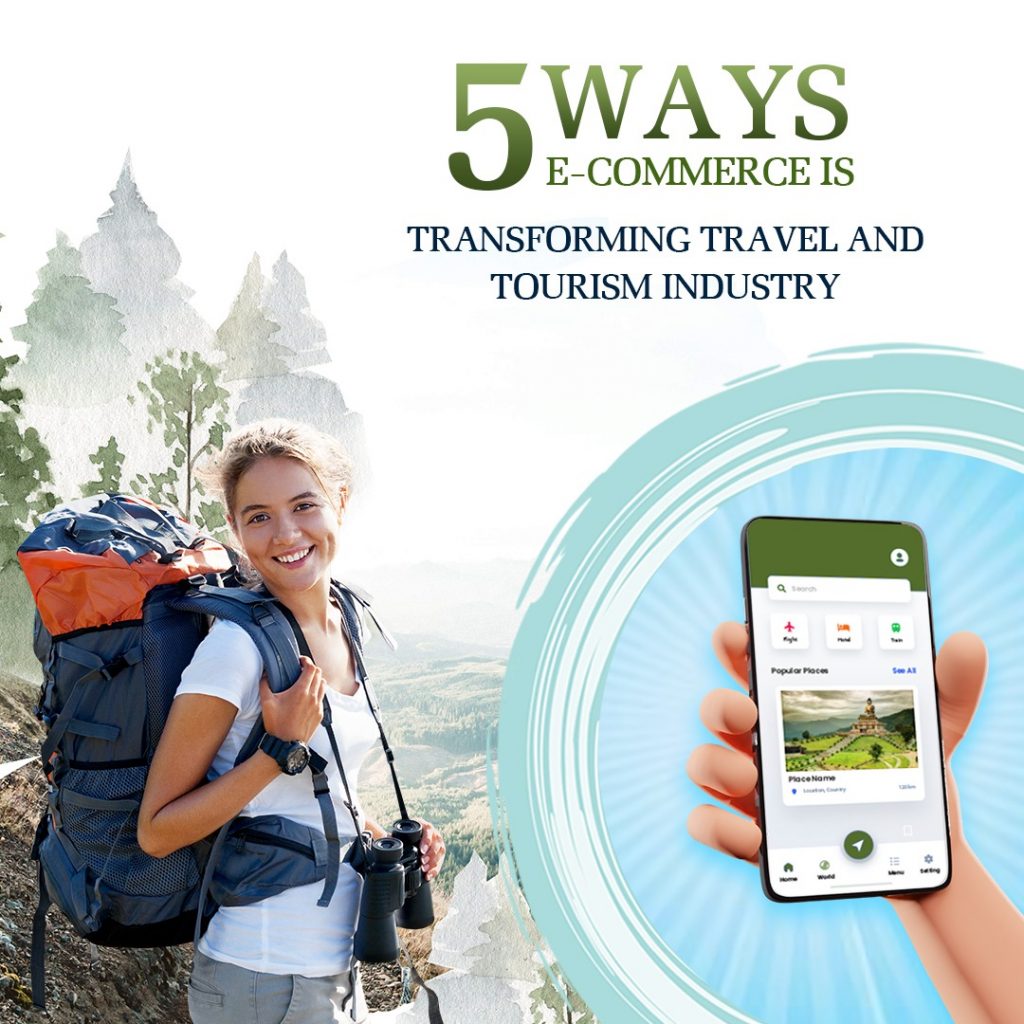 Let's plan a vacation with ease
In earlier times, you had to plan months before going on vacation. It used to take weeks to book train tickets, check the availability of hotels to stay, and in deciding places to visit. But since there is the integration of e-commerce and the travel industry you can plan a vacation comfortably even just a day before.
Due to e-business, you can book flight and train tickets online sitting at your home. You can plan a comfortable journey according to your budget by comparing hundreds of brands on e-commerce websites. It helps you to streamline your vacation planning with ease. 
Loyalty programs- Want a discount?
E-commerce websites and e-businesses connect with many vendors. To entice travelers, these vendors run a lot of offers. These offers help customers to choose affordable plans and who would not like it if money is saved even during vacations? Through this scheme, vendors retain their old customers and attract new travelers through good offers. And all this is possible only because of e-business and e-commerce websites. 
Because of e-business, you can manage the presence of many hotels, touring places, and restaurants. 
Virtual Reality- First feel then visit
The unique use of virtual reality came to the fore with the advent of e-commerce. Using virtual reality, you can take the feel of tourist places sitting at home. If you understand from a story, imagine that you want to do gliding. It's Thrilling, right?
But you have never done anything like this before and you do not know which are the places which are known for paragliding. Through virtual reality, e-businesses make the paragliding experience a reality on web pages. By visiting this type of e-commerce site, you can choose the place of your choice and also take a feel of it. So are you ready for the next adventure? 
Happy Customers-Happy Business
The biggest aspect of the business is customer service. Suppose someone from outside your country likes your hotel and wants to know about the pricing of the room for staying on his vacation. But you are running your hotel in a traditional style and can't able to connect. Sadly you lose a potential customer here. Similarly, the traveler is also unable to find his favorite place. 
But e-commerce provides you with diverse options for customer service including mail, video conferencing, contact form, and much more. Therefore you will never miss a customer if you are running an e-business in the tourism industry. 
Easily pay your expenses
The biggest problem at the time of travel is the transaction. For big expenses like hotels, flights, and cabs you can't carry cash all the time. But e-businesses make this process hassle-free. E-commerce websites provide easy payment gateways to move in a cashless world. It is more convenient for both customers and vendors. 
About us
Dzinepixel Webstudious is one of the leading e-commerce development agencies in India. We provide quality and affordable full-fledged e-commerce websites to make your business run smoothly. Our team of expert developers and designers helps you get the best results in the market. To learn more visit our website today.